Catching rainwater from your roof is the most accessible source of water for off-grid homes. Everyone gets at least a little rain, and if you size your roof and storage to match your annual rainfall, you need never go without water.
Water is such a necessity on a small homestead, that most people will not even buy land without a water source. If you failed to get land with a water source, don't worry, you can still have water, although it may take some work. We have never had a source of water on our properties, but we were able to thrive with rain catchment, which is our favorite source of water.
Our first rainwater catchment was kind of an accident. When we first moved to the desert, before we had built anything, we lived in a bus. It was the perfect little starter home, until month number two when a hailstorm hit us. Hail stones the size of golf balls shattered all the windows and even put holes through the sheet metal roof. From then on, every time it rained, it rained inside. We knew where the holes were and had buckets at the ready. When the buckets filled up, we'd pour them into larger containers. It was awesome. Free water without having to haul… we were hooked. After that, it was just a question of making the system a little more refined.
Components
A rain catchment system consists of a collection area or roof, gutter and piping, a storage tank, and a delivery system.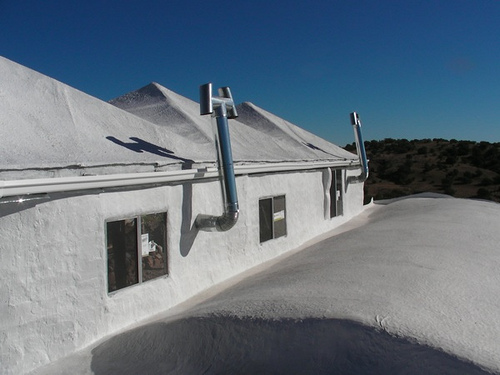 The main component is the roof, without that, you can't collect much water. So, how much water can you collect? Multiply the square footage of your roof's foot print (do not include the extra area from, say, a peaked roof) by 0.6. That is how many gallons you will collect in each inch of rain.
Calculate your average rainfall, and how much water you want (or need) to have, and you will have a fair idea of how much roof you will need.
You want to make your roof out of a material that does not leech toxic elements into your water. For example, concrete, acrylic concrete, and painted metal are fine. And it should slope sufficiently to deliver the water.
At the end of the roof are the gutters. The gutters are designed to collect the water from the roof and deliver it to the pipes that go to the storage tank. Your gutter should be cleaned often, and, in areas with lost of trees, some sort of leaf protection should be researched. The less trash that gets into the gutters means less trash in the pipes and tank later on.
When installing your gutter, mark a level line, and then drop the downspout end by an inch or so. That should be a sufficient slope for the water to run down. The gutter pipes should be at least 4 inches in diameter to properly deliver the water to the tank. Smaller sizes can cause backups in heavy rains, creating overflow in the gutter and possible damage to your system, not to mention wasting water that you could be collecting.
A screen filter in the delivery system before the tank is a good idea. Just in case some dirt or leaves gets down the pipe, you want to keep that sort of trash from getting into the tank. Be careful, however, and clean these filters regularly, as any type of blockage will create a problem. Keep your pipes and tanks completely dark to avoid growing algae and starting a food chain.
To ensure that the water in your tank stays as clean as possible, it is a good idea to install a first flush system. This acts as a primary diverter, so that the dirt and dust from your roof does not enter your tank. It is most useful when it hasn't rained for a while and dust has been allowed to accumulate.
The idea is simple; place a barrel in line between your roof and your storage tank. The inlet to the barrel has a float valve. As the first water from your roof travels down your gutter systems towards your tank, the water enters your first flush barrel. When the barrel fills up, the water can then enter your storage tank. After filling up, the barrel slowly drains out to a tree or garden spot. This leaves it ready for the next rain.
Water catchment can provide for a home, even in the desert. Coupled with conservative usage and proper storage, a rainwater system is one of the best water systems available. The water is clean and very reliable. You have decent security, because you don't run the chance that a neighbor could pollute your water storage like in groundwater systems.