We've already mentioned how complex and confusing the ideas behind Food Web can be. With so many overlapping cycles and animal needs, it's hard to keep things straight. So the idea of these next few chapters is to break down the actual structure of Food Web and the terms we use to describe it. We'll use the spider web as a rough analogy of the structure and components within an integrated homesteading system.
DEFINITIONS OVERVIEW
The overall web represents the network of species, all of which work together on various levels to improve some aspect of the whole. It should never be seen as something stationary. It is a living, breathing entity that evolves and develops according to changing situations or needs. Remember that the strength of a spider's web comes from its flexibility and the ability to repair or remove damaged segments.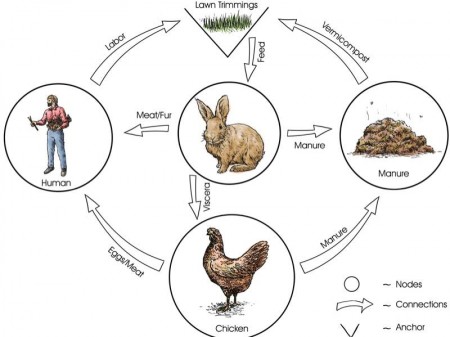 A simple Food Web
When you look at a web, there are three main components: anchors, nodes, and connections (strands). These are the principle terms we will be using.
Anchors are where the strands connect to the surrounding environment. They would probably be considered the start and end points of a web, where the flow of energy enters or leaves the farm. They are what hold the web in place within the world around it. With Food Web, they would be things that are imported from outside of the homesteading system (like some types of feed or medicine), as well as the things that are exported as products for sale (like produce and meat).
One of the main goals will be to make these anchors as stable as possible. Ideally, the imported items should be things that are cheap, in plentiful supply and locally available. A perfect example would be some form of waste stream from the community, such as tree clippings or old bread. As for the exports, knowing the community and their needs will go a long way to making the things you sell secure. Having a variety of products also helps. If one particular market should fail, there are still many others that keep the web securely in place, while you adjust or replace the unstable anchor.
The next term to clarify is nodes. They are the part of the web where strands cross each other. They form the internal components of the web, and are usually living beings. There are many different types of nodes. First, we have initiator nodes, which are the species that start off the food chains. These usually consume one of the anchor inputs. Others may be converters, changing feed or energy from one form to another. Then, we have consumer nodes, which tend to absorb energy rather than allow it to pass through. Most nodes, however, are multi-taskers, and perform many of these different jobs, sometimes simultaneously.