Getting honey from your Honey Cow requires you to have bees in your hive. Using a "bait hive" and some "bee lure", we will "fish" for a swarm of bees to fill our Honey Cow.
Bees tend to swarm during the big nectar flows in late spring, early summer. You should have your bait hives set up well ahead of time. In some areas, people are able to catch a few swarms per year. It helps to have more than one bait hive to increase your chances. These simple hives provide an attractive home for the new swarm.
The simple bait hive we describe here is designed to fit with a Honey Cow hive. The top bars are interchangeable, so moving your new bees to the Honey Cow is quick and easy. Like with fishing, you must be patient and wait. Before you know it, you'll have happy bees ready to join your family.
Materials & Tools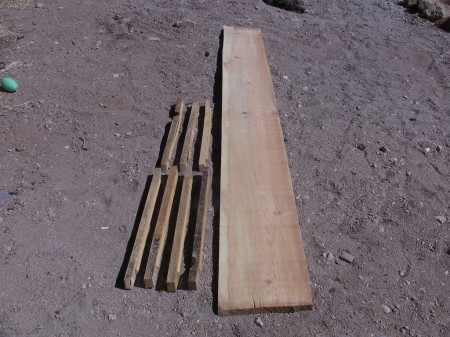 1X10 by 8 ft non treated lumber (cedar or pine work well)
24 X 1 1/2" wood screws
10 X 3/4" wood screws
A bit of white paint
Boiled Linseed Oil or natural wood preservative (optional)
2 X 11" by 3" pieces of sheet metal
1" cube of Beeswax
1/4 cup olive oil
Lemongrass Oil (100% natural/organic)
Cordless Drill
Circular Saw
1/4" drill bit
3/4" drill bit
Wood rasp/ file
Straight Edge
Paint brush
Fluorescent Marker (Yellow Highlighter)
Small glass jar and lid
Small saucepan
Stove