NOTE: THE MAKE MAGAZINE ARTICLE SHOWS THE BLADES BEING CUT FOR A CW ROTATION. IF YOU ARE USING THE TREADMILL MOTOR MENTIONED IN THE ARTICLE PLEASE CUT THE BLADES PER THE WEBSITE INSTRUCTIONS.
Wind power is abundant, clean, inexpensive and easy to do.  It is our belief that anyone can be in control of where his or her electricity comes from.  There is nothing more rewarding and empowering than making a wind powered generator from scrap materials.  Most of the tools and materials in this manual can be found in your local hardware shop or junk pile.  We highly recommend you search your local dump and/or junkyards for the materials required. If you live in a city, do a search on freecycle.org for salvaged parts.
Safety should be our highest priority.  Human life is more important than electricity, so please follow any and every safety guideline you come across.  Wind generators can be very dangerous, with fast moving parts, electrical sparks, and violent weather conditions.
Materials & Tools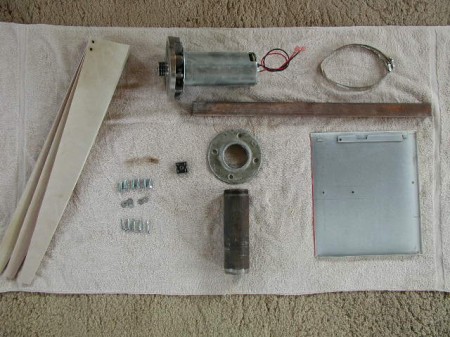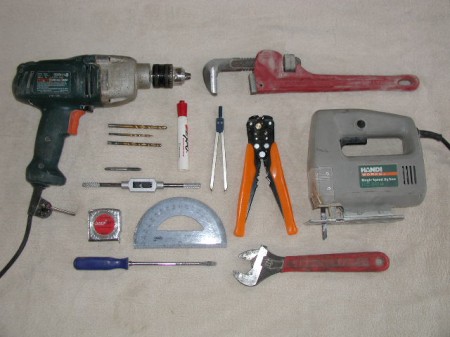 This manual is based on using a 260 VDC, 5 A continuous duty Treadmill Motor with a 6 inch threaded hub. For more information on how to pick a motor, or other parts, please read our parts section. We are getting about 7 amps in a 30 mph wind. In other words, it is a simple, cheap little machine to get you started.
You may use any other simple permanent magnet DC motor that returns at least 1 V for every 25 rpm and can handle upwards of 10 amps. If you do, there will be certain changes to this supply list (for example, you will have to find a hub – a circular saw blade with a 5/8″ shaft adaptor will work).
Mount
36″ of 1″ Square Tubing
2″ Floor Flange
2″ X 6″ Nipple
3 X 3/4″ Self-tapping Screws
NOTE: if you have access to a welder, you can weld a 6" section of 2" pipe onto your square tubing instead of using the flange, nipple and sheet metal screws.
Motor
260 VDC, 5 A continuous duty Treadmill Motor with a 6 inch threaded hub
30 – 50 Amp Blocking Diode (one-way)
2 x 5/16" x ¾" Motor Bolts
3″ X 11″ PVC Pipe
Tail
1 sqft (approx) lightweight material (metal)
2 X ¾" Self-tapping Screws
Blades
24″ length of 8″ PVC Pipe (if it is UV resistant, you will not need to paint it)
6 X ¼" X 20 Bolts
9 x ¼" washers
3 sheets A4 paper and tape
Drill
Drill Bits (7/32″, ¼", 5/16″)
Jigsaw with a metal blade
Pipe Wrench
Flat Head Screwdriver
Crescent Wrench
Vise and/or Clamp
Wire Strippers
Tape Measure
Marker Pen
Compass + protractor
¼" #20 Thread Tapping Set
An extra person helps a lot!