When Leo was two, he was awed by swings. Every time we'd go to the city, we were obliged to spend a considerable amount of time at a park, playing on the slides and swings. And when we got home, he would repeatedly ask to go back to the "city swings". So, when one week we couldn't play outside due to gale force winds, we decided it was the perfect time to make him his own swing. It took us about 30 minutes to build, using things we had around the place, and he never seemed to tire of it.
Materials & Tools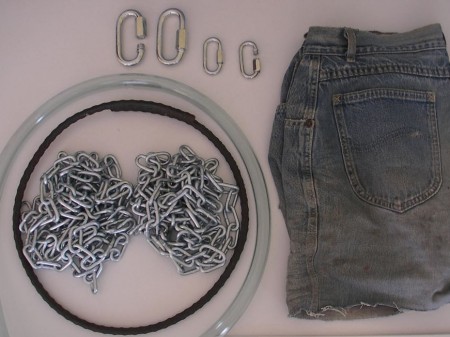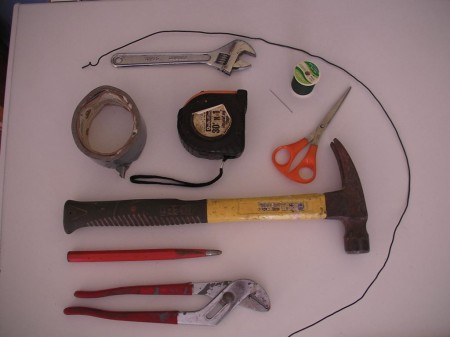 a pair of old jeans (we used 32" waist; if yours are much larger, you will need to increase the size of the rebar)
a 42" length of 3/8" rebar
2 x ¼" chain quick links (150+ lb)
2 x 3/8" chain quick links (150+ lb)
2 pieces of ¾" hose or tubing, each about 18" long (the tube must be wide enough for the chain to pass through it easily)
2 pieces of 3/16" chain (150+ lb), the lengths of which depend on how tall the object (tree, ceiling beam, etc.) where the swing will be attached.
a needle and thread
scissors
duct tape
tape measure
crescent wrench
2′ steel wire
(metal punch, hammer, channel locks or vice)