Cisterns are one of the most reliable forms of storing your water in an off-grid system. They are easy to monitor and control, so that you always know how much water you have on hand.
As with any building, a cistern needs a good foundation that must be level and soft. Avoid sharp objects on the pad like rocks, as they can wear holes in your tank over time. Compact the site as much as possible first, and always plan for drainage, in case of floods or tank failure. Never place a tank above a house, as this is asking for a disaster.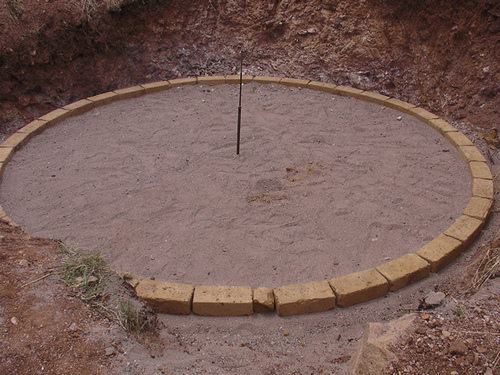 Plastic tanks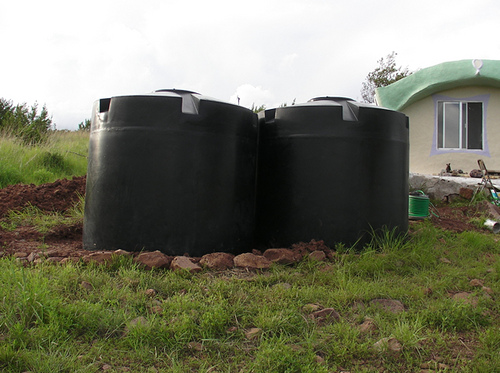 Plastic tanks are a fast way to store water. However, they are expensive, especially in larger sizes.
We bought two 1000 gallon plastic tanks when we were getting started. We had so much else to do and we wanted to get catchment set up as fast as possible. For that purpose they were perfect. As soon as we had time, we put more effort into building larger cisterns, and that is where plastic fails, due to the cost.
We also use plastic tanks for smaller sizes (200 gallons or less), where they tend to be more cost effective. We use this size tank for more mobile storage, like irrigating a particular patch of trees to get them started, or a small fish tank.
Concrete tanks
The nice thing about concrete, whether ferro-cement or poured, is that you can make a very large tank for the same price as a relatively small plastic tank. In our area, a 5,000 gallon ferro-cement tank would cost us roughly what a 1,500 gallon plastic tank costs.
Concrete cisterns can last a very long time, if they are built well to begin with. The thing to remember with concrete and water is that concrete naturally seeps water. You must make sure that there are no cold joins, especially between the slab and the walls, as this is where they will leak. One way to help with this is to use acrylic in your concrete mix, as acrylic adheres very well to itself.
When using ferro-cement, you are not tied to the shapes that are mass-produced, so you can make it fit with the style of your property. Many people have made ferro-cement tanks that look like giant boulders.
Do not consider building a concrete tank if you have no experience with this medium. Get your feet wet with other concrete projects before doing something that contains water.
Liners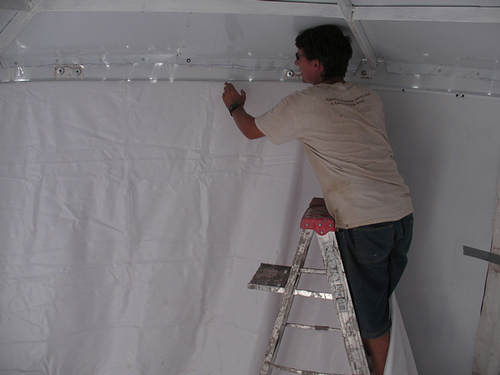 Making a shell to hold up a liner is our preferred manner of building cisterns. They are much cheaper than plastic and faster than concrete. Though not as durable as a well made concrete tank, they can last your life time.
The basic principle is make a form for the liner. We have used sheet metal for this purpose, but also just a welded metal mesh. You then attach the liner to the inside of the form, and you're pretty much done, other than the roof. Make sure that the liner is of the quality you need for its purpose, whether potable or irrigation. Also be careful that there are no sharp edges anywhere that can tear your liner.
If you want more information about making this kind of cistern, please consult our cistern how-to.