Hot water is the epitome of luxury. There's nothing quite so soothing after a hard day's work as a hot shower. And just because you live off-grid, there is no reason to be without.
If you live, or are striving to be, off-grid, hot water is an issue that will come up. Heating anything with electricity can be extremely inefficient and a huge drain on your power system. However, there are several alternatives for heating your water. You just need to decide which is right for you and your location.
Solar
If you live in an area that sees a little sun most days, a solar water heater is a great option. Once installed, you won't have to do anything to it, other than the taxing task of using it.
There are several commercial units available that use vacuum tubes, which will even heat up in cloudy weather. However, if you want to go for a cheaper option, there are several available.
If you put black pipe on the ground or roof in the sun, the water inside will get extremely hot. Cycle this slowly through a tank or pool and you'll be surprised by hot your water will become.
The system we use is solar. A friend of the family was going to throw out two 8ft x 4ft panels because they were broken. We fixed the minor damage, which involved replacing the glass and soldering some of the copper pipe that snakes back and forth within the panel. These panels are now mounted on our roof and connect to a tank that we placed within a well insulted box. A pump starts cycling the water whenever the temperature within the panels exceeds that of the tank. We are now never without hot water, unless we have about four days without sun. For those very rare occasions, we intend to build a backup Combined Heat and Power (CHP) system.
Compost heating
Compost water heaters are somewhat of a new concept, but basically, you are using the heat given off by the bacteria in your aerobic compost pile to heat your water. The great thing about this method is that it is 24 hours a day. The bad thing is that you have to either make a HUGE pile, or make an insulated box to make the most out of the compost. Plus you will have to stir it up occasionally, and make new piles periodically.
A compost pile basically consists of layers of nitrogen (like manure) and carbon (like sawdust or weeds). You will want to wet it down well, as the moisture will speed up the decomposition, and thus heat. Close it off so that the heat and moisture are trapped inside. It helps to circulate air through it so that it doesn't turn anaerobic.
We have tried this method for heating a room, not for water. Although it worked well, it is fairly labor intensive as you have to make a new pile every so often. However, you do get the added bonus of beautiful compost for your garden.
On demand
An on demand water heater is a great source of heat. These usually use gas, like propane or methane. While you would have to buy the propane required, it is fairly efficient and thus not too expensive. However, you can produce your own methane with a biogas digester. This is something we have always talked about but never got around to. Maybe one day we will.
Click here for a full description of a methane digester.
Dump load
You can use the excess heat from other systems to heat your water. For example, you can set up a dump load on your power system, so that whenever it produces more power than you need, it can heat the water. Likewise with other things like producing bio char or making ethanol. This method is often good as a backup system, and incorporates the principals of a Combined Heat and Power setup.
Storage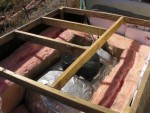 Unless you are using an on-demand system, storing your hot water is almost as important as producing it, if you want to be able to use it at any time.
Once you have figured out how you are going to heat your water, you need to be able to store it. This works on the same principle as the batteries on your power system – you are storing energy so that you can use it later, when your source is not producing.
The key to storing heat is insulation. If you don't want to lose any heat you produce, you must insulate both the tank and the pipes. And that also means protecting that insulation from rain and UV.
Your tank can be metal, concrete, or even plastic, providing it is of a quality that can withstand heat. Your pipes should likewise be heat resistant, like PEX.
We have a 200 gallon plastic tank, set inside an insulation stuffed box that is then stuccoed.
Hot water is not a necessity, and we had a lot to do on our homestead that was far higher on the priority list. However, when we finally did get around to installing a hot water system for our bathroom and kitchen, it changed our lives. Such a simple thing, and yet so enjoyable.