As Leo gets older, his interest in natural sciences is becoming more acute. And every time we checked on the bees in the Honey Cow, he would beg to be able to go with us. So, we decided to make him his own bee suit.
During our bee experiences, we've found that a full suit isn't necessary; if we hadn't already bought two a long time ago, we wouldn't be wearing them. The most important parts are the veil and gloves, beyond which you just need jeans and a long-sleeved shirt. However, seeing as Leo doesn't really have any shirts that are of thick enough material, we figured a jacket would be a good idea. Also, for a six year old, standing patiently while you tie up all the bits and pieces of an adult veil is extremely hard, so we went ahead and made an all in one veil, mittens and jacket. All we have to do is slip it over his head and zip it up. It's awesome, and he's delighted that he gets to look at the bees up close.
You can make this project faster (but more expensive) by buying a thick shirt and wide-brimmed hat. You can then add the veil and mittens, and sew the zipper into place as described later.
Materials & Tools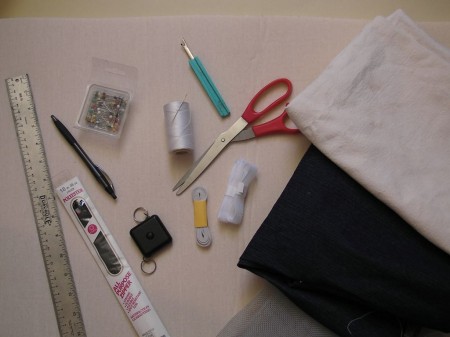 12″ x 40″ fine plastic screen (preferably black)
36″ x 72″ tight weave fabric (so bees can't sting through it) – white is preferable
48″ of foam backed cotton fabric
30″ thin rope
18″ open/jacket zipper
Measuring tape
Marker
Scissors
Needle and thread
Pins, de-seamer, etc.
Sewing machine