One of the bonuses of having a top bar hive, like the Honey Cow, is the production of beeswax.  Wax can be used for a variety of things, like homemade remedies and salves, bee lure, creative candles, or sculptures.
Most people melt beeswax in a double boiler, which is a container of wax within a container of water.  You simply heat the water container, and the wax melts.  But that approach uses valuable energy and time.
The solar wax melter is basically a simple solar oven. It consists of an outer box, insulation, inner heat chamber, wax screen, wax container, and a clear top.  The raw comb is placed on a screen, and as the sun heats the oven, the wax slowly drips through the screen into the container below.  You are left with a nice chunk of screened wax.
By creating a solar wax melter, you can save all that wonderful beeswax, energy and time by just dropping in your chunks of comb, and letting the sun do the hard work!
Materials & Tools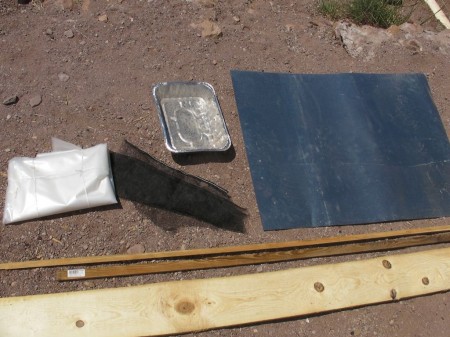 Pan – we use a cheap, aluminum roasting pan, but many thing could be used
1X8 by 8 ft lumber
1X1 by 8 ft lumber
1X2 by 8 ft lumber
50" X 39" sheet metal
19" X 14" shade cloth or screen
22 X 1 1/2" wood screws
30 X 3/4" wood screws
24 X 3/4" self tapping sheet metal screws
27" X 24" greenhouse plastic
Perlite, vermiculite, sawdust, rice hulls, or any light insulation material
Staples
Silicon sealer
Black paint
Cordless Drill
Circular Saw
1/4" drill bit
Tin snips
Scissors
Tape Measure
Straight Edge
Pen/Pencil/Marker
Hammer
Paint brush