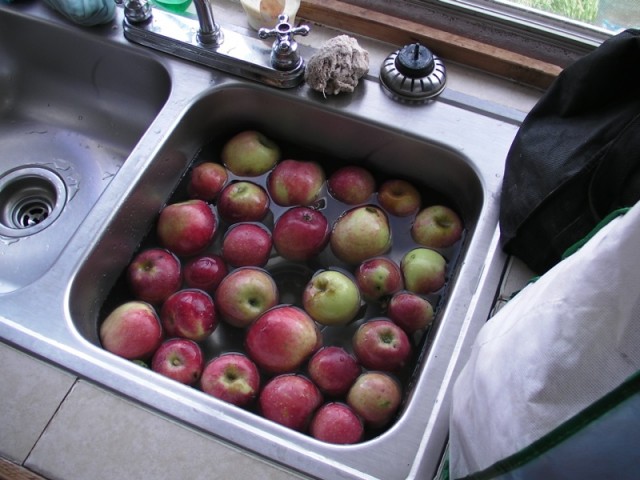 2 or 3 days away from completing our new tank and it started pouring, every drop of the 4″ (or 4000 gallons) going on the ground. So, to use the time that we were house-bound wisely, and to compensate for the misery that's caused by wasting water, we decided to make cider.
We already made a press (for full instructions, see here), but this year we've added a grinder to our equipment. It was a lot easier to make – little more than a sink, a stand, bucket and a sink waste disposal unit.
[flickr_set id="72157627648554298″]
We threw one crate of apples into the grinder and then pressed the juice out. From start to finish, it took an hour and 40 minutes (future crates should go a lot quicker as we've ironed out a few creases). It produced three and a half gallons of juice. We often run the pumice through a second time with some added water for some weaker juice, but we didn't do that on this crate as these apples aren't as sweet as the ones that will be ready in another couple of weeks. The pumice makes a great animal feed that everyone loves.
Of the 3 1/2 gallons, we're leaving 1 1/2 as juice, some in the freezer and some in the fridge. The other 2 we will be making into cider.
We've got another crate here at the house, which we'll be processing this weekend. Half will be dried in the solar food dryer and the other half we'll make into apple sauce to freeze. Then we'll wait a couple of weeks for the apples to age, before we do any more. Meanwhile, the kids walk around with an apple permanently in their hand or mouth. Love this time of year!