So, you've got the terrace, soil and water system ready, now what do you plant and where? That's an impossible question to answer, as every forest garden will be different. However, there are a few guidelines to help you decide.
Forest gardens are usually divided into guilds, named for the tall tree that it will include. Each guild has up to seven layers within it: canopy tree, short tree, shrub, herbaceous, ground cover, roots and vines. You need to make sure that everything that is planted together is a companion. Some trees or plants add toxins to the soil that are poisonous to other plants, but there are always some that will tolerate it and can act as a filter to other guilds. For example, if you have a Juniper near your orchard that you don't want to cut down, you will have to plant something like Mulberry, grapes, currants or Pomegranate next to it, as all of those are not affected by the Juniper's toxins.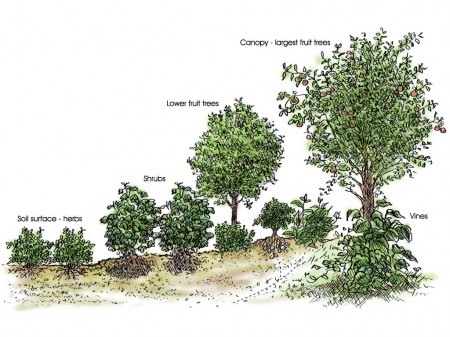 It helps to make a table with headings like: maximum height, width of canopy, temperature range, humidity range, soil preference, nitrogen fixer or feeder, companions and antagonists. Add any plant that you want to the list on the table, and fill out all the categories. There's a lot of information out there on all kinds of options for your forest garden, but a fairly good place to start is pfaf.org
You want to mix and match your guilds, so that you balance out your tall trees and have a nitrogen fixer periodically. Include some plants that will survive extremes in temperature and humidity (weather is becoming increasingly unpredictable). Put sprawling trees like figs where you want a wind block, arbors with grapes where you want shade in summer but not winter (like over a bench), brambles like blackberries are great for hedges where you don't want people or animals to walk.
Also, include your animals in the process; a forest garden can provide for a lot more than just you. What do your bees, rabbits, pigs like? There are many plants, like a Mulberry tree, whose leaves are edible to animals, so they end up being extra efficient food sources. You can also tractor your rabbits within the forest, so they can eat down grass and weeds, but also fertilize the soil (rabbit manure is an excellent fertilizer that can be placed on plants directly without burning them). If you have an area enclosed, you can put something like quail in there, to keep bugs down (not chickens, as they'll scratch everything up and eat many of your plants). Do not, under any circumstances, let goats anywhere near your forest garden!
Don't remove native trees or plants just because you might not want them in your longterm forest. Existing trees will offer shade and wind protection for tender, young plants, and the natives are already naturally adapted to your environment. You can always remove them later once things get established. Furthermore, there are many hardy weeds that are edible and tasty. Amaranth leaves, Lambs-quarters and purslane are frequent additions to our dinner salad, and many others besides are fed to our rabbits. Keeping some native weeds might also help with bug control; we noticed that grasshoppers always eat the wild amaranth first, so we started to cultivate it as a garden and orchard perimeter.
Bare in mind that many perennials take a long time to grow from seeds. If you haven't yet found all the plants you want or your seeds haven't grown enough, don't be afraid to stick some annuals in there for the time being.