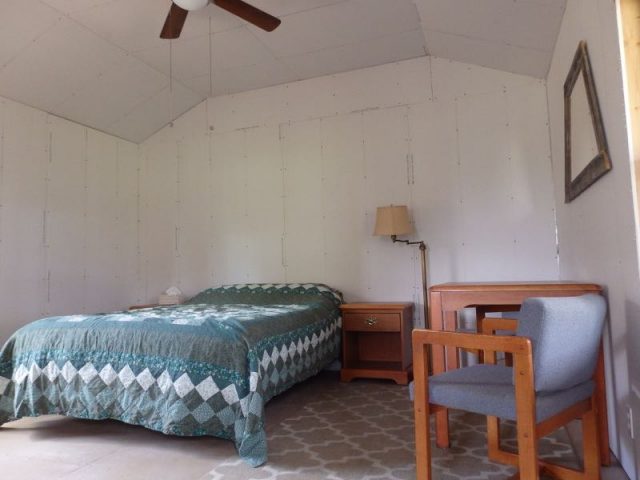 It's been crazy busy here for the past couple of weeks, so I haven't had much time to blog. But now that things have calmed down and we can relax a little, I'm back!
One of the main reasons we've had so much to do is that, aside from spring gardening and other normal homesteading chores, we have been trying to get the cabin ready for its first guest, my dad. Even putting in long hours, we didn't get it anywhere near finished, but at least it works as a basic bedroom.
We had thought we'd be able to hang all the drywall in time, but it just didn't work out that way. Still, we got all the ceilings up and the bedroom walls. Once my dad leaves, we'll finish the living room and bathroom, and then we'll have to tape and mud it all, followed by painting and trim 🙁
We dug a trench from the electric pole to the cabin, for the mains wire and its conduit. We then wired up the breaker box inside the cabin, as well as all the lights and fans, and the plugs in the bedroom. The bedroom may not be finished out completely, but at least there's lights and plugs.
We have the bathroom plumbing in the walls done. It is ready for a shower, toilet, sink, and hot water heater. The grey water vent is finished, but the drain just goes through the floor for now, not out to the garden bed it will eventually water. We'll finish it all out once the drywall is done in that room.