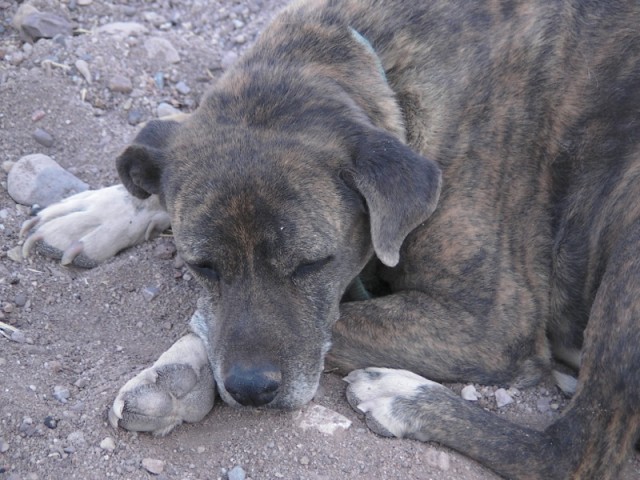 We've had Gracie before "we" existed. In 2002, I was helping out down a local restaurant, when this brindle Boxer (at least 3 or 4 years old) walked in off the desert. She was super skinny and weak, covered head to foot with ticks, showed signs of recent lactation. But even in that state she had such a gentle, intelligent look, and would let anyone pet her. I took her home, fed her, bathed her, got as many of the ticks out as I could. I then started looking for a home for her.

Now, about this time there was a handsome young guy that had recently moved to the area and had started hanging out at the restaurant. His name was Abe. As it turns out, he was looking for another dog to keep his dog, Salsa, company. So, Gracie found a new home, and it wasn't too long before I followed her there.
She was always an awesome character. One of the most laid-back dogs I've ever met (except when barking at coyotes). Very smart, gentle, great with kids. She seemed to think she was worth far more than a dog, and would give you the saddest look when you treated her like one.
Anyway, it was her time. She was at least 14 years old, probably more, and she'd had a great life. We'll miss her.