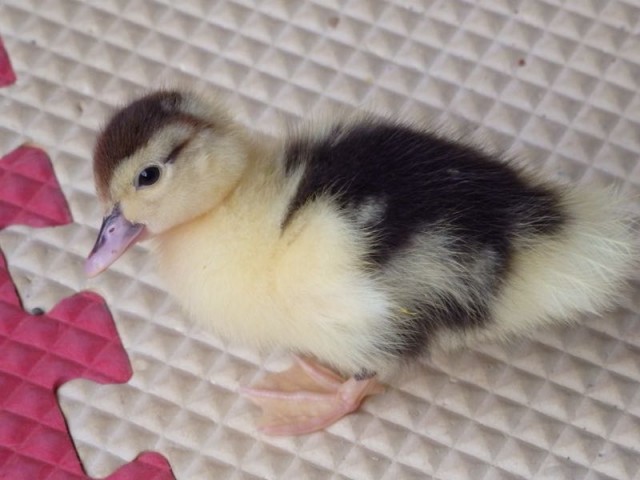 Our poor Muscovy ducks have wanted babies since they reached maturity. First, there was no male, but still they tried to sit on a nest. We then got a male and they tried again, but he was too young to have been much use. Then winter came. Now it's Spring, there's an adult male, and all is looking up.
Two of the three females have been setting on a bunch of eggs. The first didn't feather her nest and would get off it a fair bit, but she nonetheless hatched out 6 ducklings while we were visiting Abe's mom. Unfortunately, she kind of freaked out and didn't look after them very well. One was dead when we got home and three died that night. We took the remaining two, who were cold and weak, inside, but it was too late for one of them. So now we are left with just one.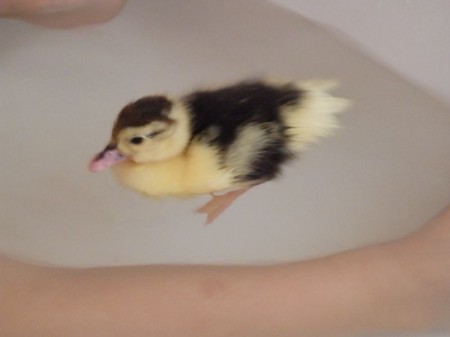 Daffy is rapidly becoming the most spoiled duck in the history of Muscovies (and that's saying something). She is adored by the whole family and cuddled constantly. She is hand fed mashed, soft-boiled eggs and mealworms. She had a bath with the boys, and LOVED it. She was pretty vocal when we had to remove her so the boys could use soap. She has a hot water bottle during the day, and a thermostat-regulated box for night-time. All in all, she is living it up and is developing a very affectionate and fun personality.
We have another duck expecting ducklings in a few more days. She has hardly ever gotten off the nest and has it beautifully feathered. She is also much calmer than her friend. We are therefore hoping that she will be a good mother and will teach the others how to do it. If that's the case, we will add Daffy to her ducklings once they are big enough.
[flickr_set id="72157651461142500″]