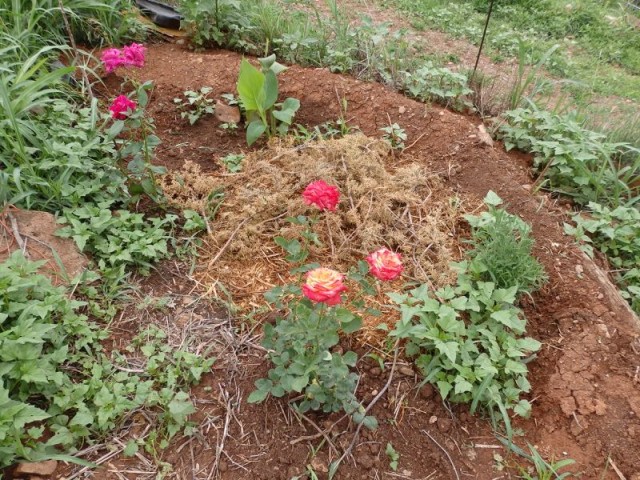 We have some indoor plant beds that are fed by the grey water from the bathroom and kitchen. While we've never had an issue with the bathroom's outlet (shower and sink), we have had several problems with the one from the kitchen.
First of all, the grease from the kitchen blocked up the 4″ underground pipe. It took years to happen, but once it did, it was a pretty nasty job to clean it out. At that point, we installed an earthworm filter under the sink, with the hopes that the worms would eat the grease. They actually did clean out the grease, but unfortunately the worms thrived so much that the pipe then became clogged with earthworm poop, an extremely thick and sticky substance.
So, we have now embarked on the next phase of the experiment: an external flower bed. We drilled a hole through the kitchen wall and then buried a pipe sloping from the the wall down to an area of the garden about 20 feet away.
We then dug a large pit, put logs and twigs in the bottom of the hole, and then a bucket upside down over the outlet of the grey water pipe. The rest of the hole was filled with wood chips (using our wonderful chipper – I discovered that I love chipping!), and topped with mulch. We also put a whole bunch of earthworms in it.
Around that hole, we have planted a few plants: a pepper tree, some roses, lavender, canna lily. We may add a couple more, but it's a start. We reckon about 30 gallons of water goes through the sink a week, so we'll see how many plants that can ultimately support.
Now we'll just have to wait and see how it does. It may take a couple of years to see if it will be effective longterm, but at the very least, if we do have to clean it out, it's outside. And maybe the whole thing will just smell like roses?!